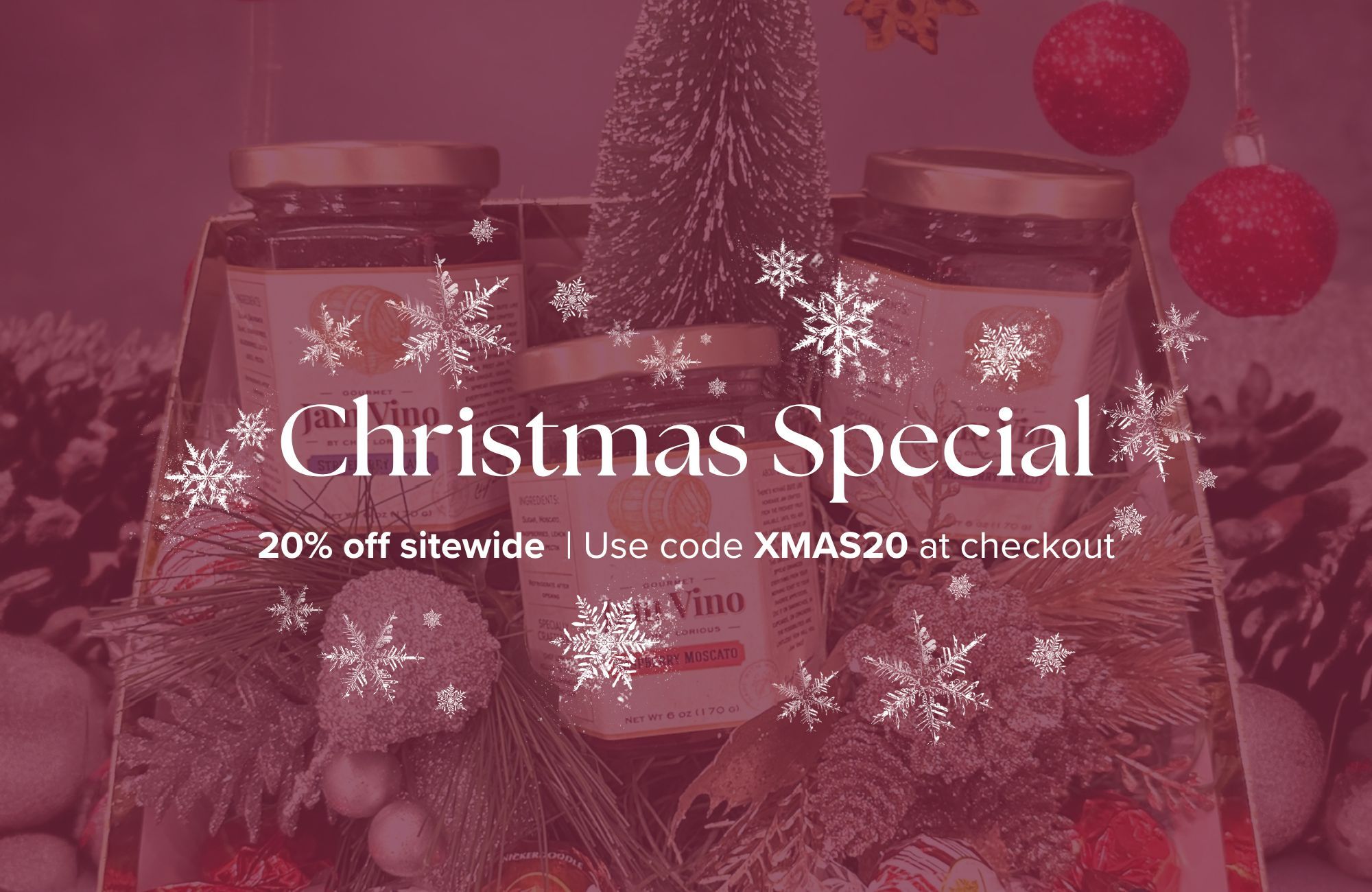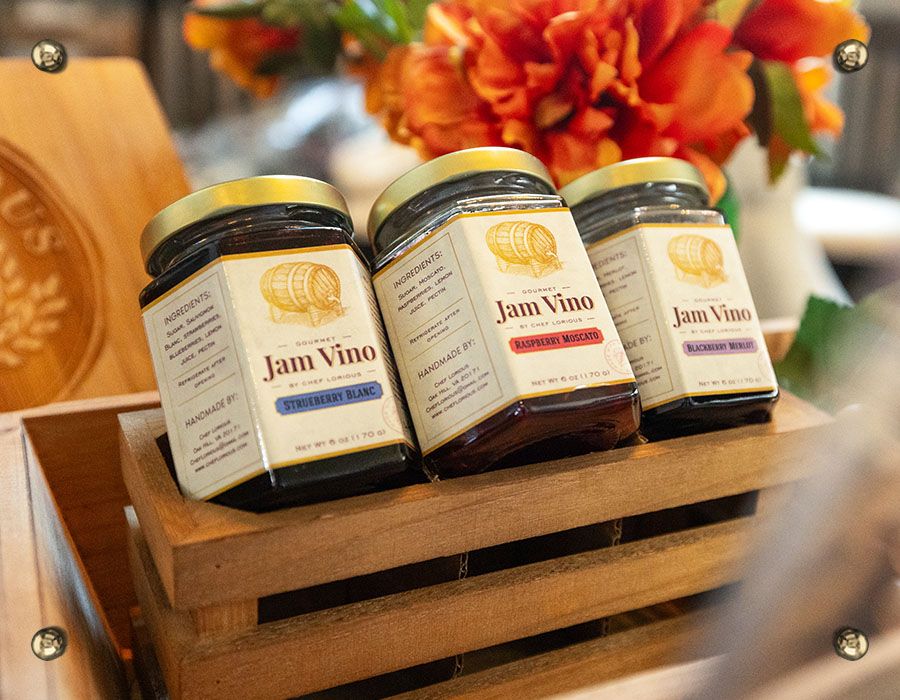 Say hello to Jam Vino
Say hello to Jam Vino, the one-of-a-kind wine-infused jam that will take your taste buds on a culinary adventure. Made with the finest ingredients, Jam Vino is the perfect blend of sweet and tangy flavors, enriched with the taste of real wine, making it the perfect accompaniment to a wide range of dishes and an indispensable addition to your kitchen!

Made with real wine, Jam Vino is perfect for those who love the taste of wine but want to enjoy it in a new and exciting way! Our carefully crafted recipes ensure that the wine flavor is perfectly balanced with the sweetness of the jam, creating a delightful taste experience that you won't find anywhere else.
Whether you're a wine lover or just looking for a new way to spice up breakfast,dessert, your charcuterie boards, or your cooking, Jam Vino is the perfect choice. Spread it on toast, serve it with cheese, add it to your recipes, or even use it as a glaze for your favorite meats. The possibilities are endless with Jam Vino flavors!

Our Gourmet Jam Flavors
Wine-infused gourmet jams have revolutionized the way people experience their favorite flavors. Created by a passionate chef, these unique flavor combinations add a delightful twist to your toast, sandwiches, baked goods, and so much more! Whether you're looking for added sophistication on your charcuterie board or just want a creative way to mix things up for breakfast, Jam Vino wine-infused gourmet jams are the perfect addition to your pantry.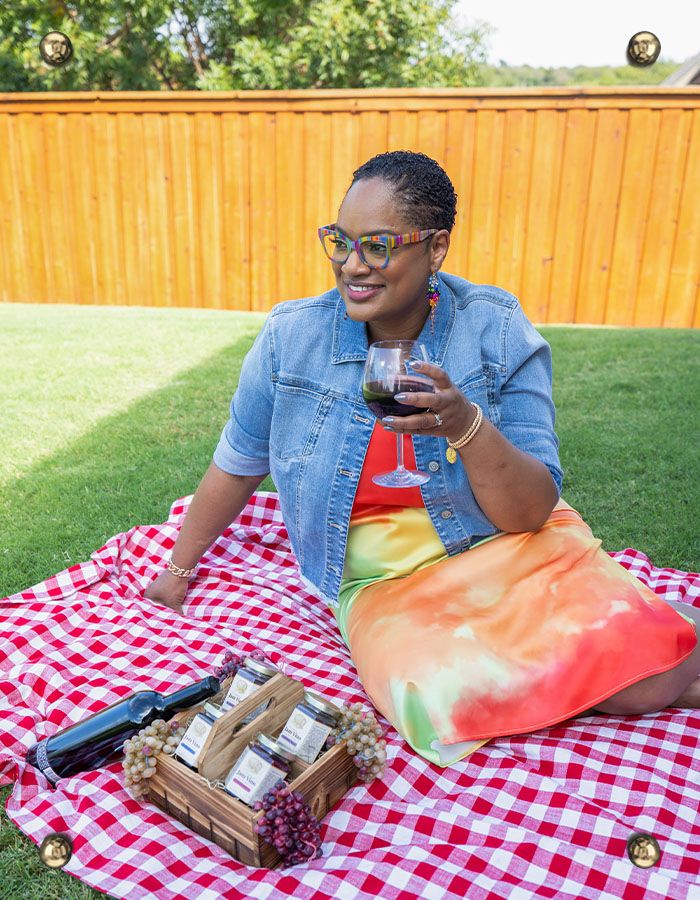 About Us
Jam Vino was created by Lori, also known as "Chef Lorious", who is passionate about flavors, cooking, and so much more! Lori "Chef Lorious" Rogers specializes in both classic and contemporary comfort food for all levels of cooks and all kinds of kitchens. Born in California and raised by a close-knit family whose traditions are anchored in southern culture from Alabama, this "Calibama" girl learned very early that food cooked with love has the power to inspire and heal. Get a taste for the flavors that inspire, bring joy, and add sophistication to any recipe by browsing Jam Vino options or visit the Chef Lorious blog to learn more about the Calibama style of cooking that Lori pioneered herself!

Why Choose Jam Vino?
Lori, or Chef Lorious, has been proudly cooking for and with her family and friends in her kitchen (more affectionately known as her "Love Lab") for almost two decades. As part of her passion for food and cooking, Lori regularly shares her recipes and meal preparation ideas by conducting cooking demonstrations and sharing her culinary expertise through television programming and various social media outlets. Because of her passion for cooking and love of wine, Lori created Jam Vino, wine-infused jams using only the finest ingredients and using detailed techniques to combine wine flavors perfectly with berries to bring a brand new flavor profile to consumers.
stay updated with the latest news, events, and exclusive offers!